NEW from the Tether Tips Blog – 3B Forms, An Amazing Add-on for Web-to-Lead
A really helpful tip from our Salesforce Administrator Simon O Leary this week.
What is 3B forms?
Recently I've been using a new application from the Salesforce AppExchange called 3B Forms. This is a relatively new, free, form building app that lets you easily create Web-to-Lead forms for your website.
If you're unfamiliar with "Web-to-Lead" this simply means creating a lead in your system from an external source (Such as your website). Salesforce has a solid, standard Web-to-Lead function but 3B forms enhances this. Not only can you create leads, but opportunities, accounts and custom objects too!
According to their website:
"3B Forms is the first free Document Collection and e-contracts solution for the Salesforce platform. It believes engaged and happy customers make great partners and see continuous feedback and collaboration as key levers in their shared drive for success. It aims to be the single most flexible and customer-friendly form solution on the market."
Why Use 3B Forms?
So why use this over the standard Salesforce function? Two main reasons:
Web-to-Custom Objects
Easily Adding Attachments
Being able to create custom objects from the web can be immensely useful for an org that doesn't require leads in their sales process. This can be for someone self-registering or for a company that only needs one step in the sales process (Opportunities).
Also, adding attachments like a refence, cover letter, certificate, etc. to your lead can be extremely helpful and requires a lot more work to accomplish with Standard functionality.
While talking about 3B Forms, I also have to compliment their incredible support! The live chat on their site means you get an immediate response and when I had an issue, they went to great lengths to support the implementation I was working on.
How to get started:
From your Salesforce system, navigate to the AppExchange. From here search for 3B Forms and install it into your system like any other package.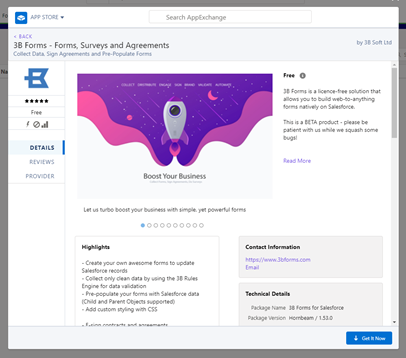 Next, go to your App Manager and you will now see the 3B Forms application.
Select the Forms tab and create new – each form is stored as a record so you can have as many as you'd like! From here you select your object and then pull over any fields you want initially displayed. Now in the form builder, you can create fields and re-arrange them into section or different pages to suit your needs. A lot of these changes save as you go too, so if you lose connection or your pc shuts down, you won't lose your progress!
You can also add rules such as "if a picklist says "Other", display another box for the user to fill in". This can ensure the data being entered is useful for your reporting.
When you're happy with your form, use the URL builder to grab the web form and you're ready to go! Once filled out and submitted, the record generates in your org with all of the information as you mapped it.
3B Forms is user-friendly and, for the moment, free! So, give it a try and see if it will work for you!
Thanks for reading, We hope this has helped.
The Tether Team
#salesforce #salesforcecrm #tethertips #crm