The Summer '21 Release is upon us and we have some fantastic improvements to look forward to!
As part of Salesforces' Summer '21 Release there are many great new features to take advantage of in your Salesforce Org. One that caught my eye is the Einstein Lead Scoring enhancement. By using AI to score your Leads, it helps your Sales Team prioritize more efficiently.
Note: This change applies to Lightning Experience and Salesforce Classic in Performance, Enterprise and Unlimited Editions.
Let's take a look at how it works and how easy it is to set up!
Lead Conversion Patterns:
If your business works with multiple types of leads, their conversion patterns may have significant differences. When you use field based criteria to put them in different segments, Einstein can calculate a more accurate score based on those patterns. All you need to do is define those segments based on your business processes and arrange them in priority order.
Should a lead meet the criteria for multiple segments, Einstein scores it as part of the higher priority segment.
The Guided Setup explains each choice as you go, providing context to help you make the right decisions for your business.
The Setup Flow helps you choose the conversion milestone that matches how your company does business and tells Einstein which Lead fields to consider when looking for your conversion patterns.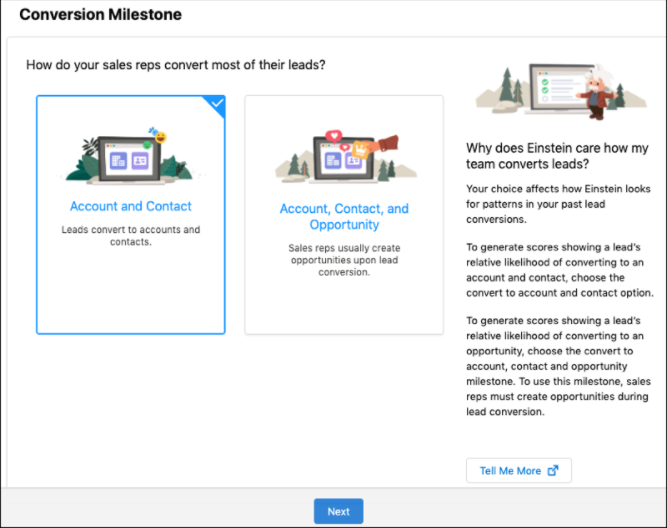 Step by step we can set the criteria for Einstein to work through your leads.
Simply select the fields that are key to identifying the criteria which give the lead a higher chance of converting.
When you tell Einstein to evaluate your leads and conversion history separately for different groups of leads, scores are more useful. For example, you can score leads from trade shows and advertising campaigns separately to let Einstein determine their unique conversion patterns and provide better scores for each. Einstein Intelligently interrogates your leads based on the criteria you set, and gives you the best analytical insight into your potential clients.
It is that simple! Before you know it, your sales team are ready to start following up on those high scoring leads.
We hope this helps, and thanks for reading,
The Tether Team.
#salesforce #tethertips #CRM