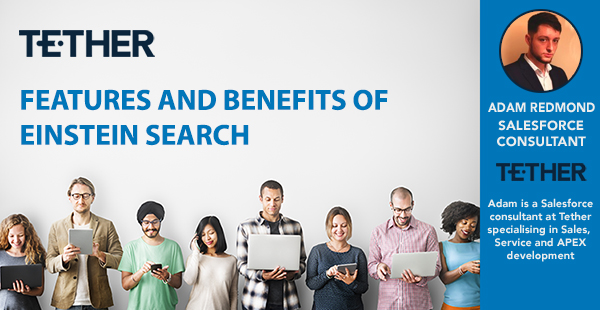 NEW from the Tether Tips Blog – "Features and Benefits of Einstein Search"
A really helpful tip from our Salesforce Consultant Adam Redmond this week.
Introduction:
In September 2019, Salesforce introduced its users to Einstein Search. Prior to the release, Salesforce described the native search functionality as "painfully underwhelming". A search function should help the user find critical information, be more productive and resolve customer issues faster. Salesforce analysis of the product found that users were up to 50% more productive and had an opportunity to fundamentally accelerate customer success.
How does it work?
Harnessing the Power of AI, Einstein Search uses data mining and machine learning techniques to personalize search results for each user. It dramatically enhances the blanket search functionality and interprets search terms in a human like manner. Its also free of charge with most editions of Salesforce. (Professional, Enterprise, Performance, and Unlimited editions)
"If you're like 93% of people connected to the internet, you use a search engine to find, purchase, or learn about pretty much anything that comes to mind. Consumer search engines provide a seamless way for us to make sense of our complex world. And consumers are used to a search experience that is fast, accurate, and constantly improving," says Salesforce VP of Product management Will Breetz. "In building this feature, we had to completely rethink the search experience so that it would scale to our hundreds of thousands of customers … Search should help you quickly find critical information and drive productivity to help resolve customer issues faster."
The three features of Einstein Search:
In short, the benefits of Einstein Search are:
Personal. Users get results that are directly tailored to their needs, no matter which role they have or which department they're in.
Natural. They get those results just by asking questions in an everyday, commonsense way, not as a string of unconnected keywords.
Actionable. And those results lead quickly and easily to the right action, without the need to dig through heaps of data.
All of this lends itself to faster, easier and more accurate searches.
Before & After Activation:
Einstein Search improves on the standard Global Search functionality in Salesforce by giving tailored results based on the users needs. It also allows Salesforce users to update records that are returned by the search result more quickly. Lets take a look at the Global Search vs. Einstein Search.
When we compare this with our enhanced Einstein Search we see some real differences. For example, instead of searching for a contact, clicking into their record, and then manually attaching the contact to an opportunity, you can take these same actions just by using the enhanced Einstein Search bar. 
We can use Einstein Search to search to speed up our searching, and spend more time focusing on our clients. Again Salesforce continue to accelerate user productivity, streamlining processes and saving time.
Want to learn more? Have a look at the video below!
A really helpful video from Salesforce:
Thanks for reading, We hope this has helped.
The Tether Team
#salesforce #salesforcecrm #tethertips #crm