Did you know that Salesforce Field Service has an interactive, easy-to-use interface that offers useful features, especially if you're just getting started?

In this week's Tether Tip, we are going to share with you the basics to get you started with Salesforce Field Service.

The first step is to enable Field Service. To do this, you'll need to:

From Setup > enter Field Service in the Quick Find box, > Field Service Settings
Enable Field Service > click Save. Additional settings will now become available.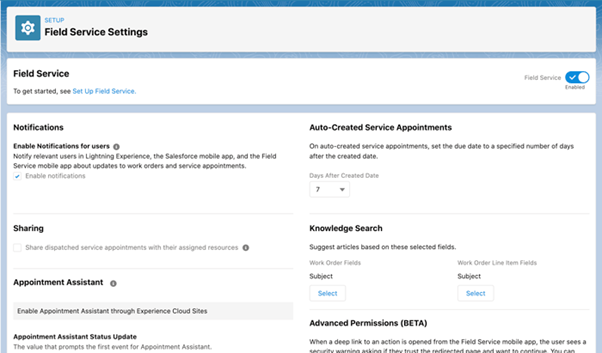 Note: This is only available if you have the Field Service license. If you don't have the correct license, only the default Work Order object will be available to be enabled.
While in setup, you can also change a few initial Field Service settings, but these are optional. You can always come back to this later. Below are some of the main things to keep an eye out for:

Turn on in-app notifications for the Field Service Salesforce App. This can be used to notify the user who is a record owner, or following a record, if any of the following actions take place:
The record owner changes
A tracked field is updated
A text or file is posted
The resource assignments changes
You can opt to automatically add a Service Appointment to a new Work Order or Work Order Line Items associated with a Work Type. This also allows you to configure the days between the created date and due date on auto created records.

Ensure to save your changes when you're done.

After enabling Salesforce Field Service, you'll want to install the managed package. This will give you access to:
The Dispatcher Console
Scheduling and Optimisation Tools
Guided Setup
Range of Custom Objects
Follow the below instructions the get the package installed successfully:
Visit the download page https://fsl.secure.force.com/install and click the installation link (Production or Sandbox)
Install for Admins Only
Once the installation has been successful, you should have access to the Field Service Admin App. From there, you can start settings up additional features based on your use case.

Hope this helps.

Paulo Duarte
The Tether Team
#salesforce #salesforcecrm #tethertips #tether #fieldservice