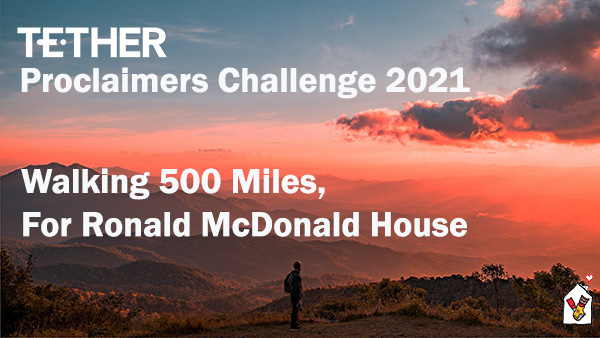 We walked 500 Miles, and are still raising money for Ronald McDonald House.
Hi Everyone, and thanks for reading, as you may or may not know we undertook a challenge to walk 500 miles and raise some much needed funds for an amazing charity, Ronald McDonald House. AND WE DID IT!
What Ronald McDonald House do:
The Ronald McDonald House helps families to face the weight of illness together. Families are stronger when they are together, which helps in the healing process. By staying at a Ronald McDonald House, parents also can better communicate with their child's medical team and keep up with complicated treatment plans when needed. They can also focus on the health of their child, rather than grocery shopping, cleaning or cooking meals. The House also enables the whole family to be together at this difficult time. Siblings can struggle during this difficult time but staying at the House keeps families close to each other and the sick child.

What we did:
As a Team we walked 527.952 Miles over the last 5 weeks, and to be fair the Lions share of the task was completed by a core group who shall remain nameless, but nevertheless, we did it! We got out there in the horrible cold January weather and put in some serious effort to get this challenge completed.
Needless to say this challenge was tough, some of us battled with injuries and of course post Xmas laziness during those past few weeks, so as of now we are going to rest up and try and come up with another idea for later in the year to do more fundraising, and team building. We had talked about a skydive but obviously with the Corona Virus thats been put on the back burner for a while.
We are still taking donations:
We have a Gofundme page set up and we are still accepting donations, you can access this page by following the link below. We would like to take this opportunity to thank anyone who has donated already, we are delighted with the reaction so far.
https://www.gofundme.com/f/tether-fundraiser-for-ronald-mcdonald-house
How did we do it?
At the last check in the team had walked an incredible 380.97 Miles. Knowing we had a fair distance left to cover we had to keep going, but we knew that every walk we completed took some miles off the remainder, I for one took inspiration from the fact we were getting close to the Goal 🙂 Disappointingly we couldn't do the last few miles together as planned, but it was a real sense of accomplishment when we all sent in our final totals and realised not only had we walked 500 miles, but we had walked 27 more….. Sorry.
This has been a really nice challenge to undertake, particularly with the current work from home challenges, stepping outside and getting away from the desk is incredibly beneficial, and we are so happy to help out this amazing charity.
We really appreciate your support, and thanks for reading!
The Tether Team
#fundraiser #team #charity