NEW from the Tether Tips Blog – 3 Useful tools to boost your content creating ability
A Useful tip from our Pardot & Salesforce Consultant Mark Reid this week.
Introduction:
As we all know, Pardot is an amazing tool for building a prospect database, segmenting these prospects into smaller groups for targeted marketing, monitoring these groups continuously using dynamic lists, creating Emails and Landing Pages, building engagement studios to stay in touch with your client database, monitoring interactions with your website, and a lot more. These form the base of your marketing activity, but there are other useful pieces of the puzzle.
The ability to do all of this in one platform is a Marketers dream, but there are some other tools that I use on a regular basis that are almost the unsung heroes when it comes to content creation. Lets call these Pardots Supporting Cast.
Pardot and Content Creation
Pardot as I've said before is amazing for content creation, as a tool it allows us to really simply and quickly build out emails, based on templates, and we can re-use these templates over and over to maintain our consistency of communication, brand, theme and imagery. What's not to love about that? We can also build Landing Pages which i covered in my last blog here. The standard layouts templates are great, and we can really be creative with our content and strive to set our assets aside from everyone elses. This is where these other tools come in handy!
Unsplash: Free Hi-Res Images
Unsplash is one of the best sites out there for Hi Res Imagery, and its free. I also use shutterstock on a regular basis, but one thing I love about Unsplash is the ability to try out 5 different images in an email or a Landing Page and not have to worry about hitting my monthly download limit in one day. For example I always pull the Hero Image for the Blog Posts from Unsplash, there are so many images on there and its constantly updated. This week i wanted an image that contained Jigsaw pieces, and Unsplash has hundreds, its just a case of finding the right one! Using different images every week keeps the posts fresh, and allows you to differentiate your posts based on content, almost like manual Dynamic Content.
Canva, (Almost) ready made email banners, social posts and more:
Canva is an amazing tool for pre built templates for email banners, Canva is a graphic design platform, used to create social media graphics, presentations, posters, documents and other visual content. The app includes templates for users, and can be a really handy time saver for content creation as part of your Pardot strategy. As great as this tool is, the free version does have some limitations and can be restrictive at times, sometimes you will find a template that you love, and then realise its restricted from the free version. All in though as a drag and drop asset builder it works well, and also gives you pre-built templates to manipulate with your custom imagery and really make your own!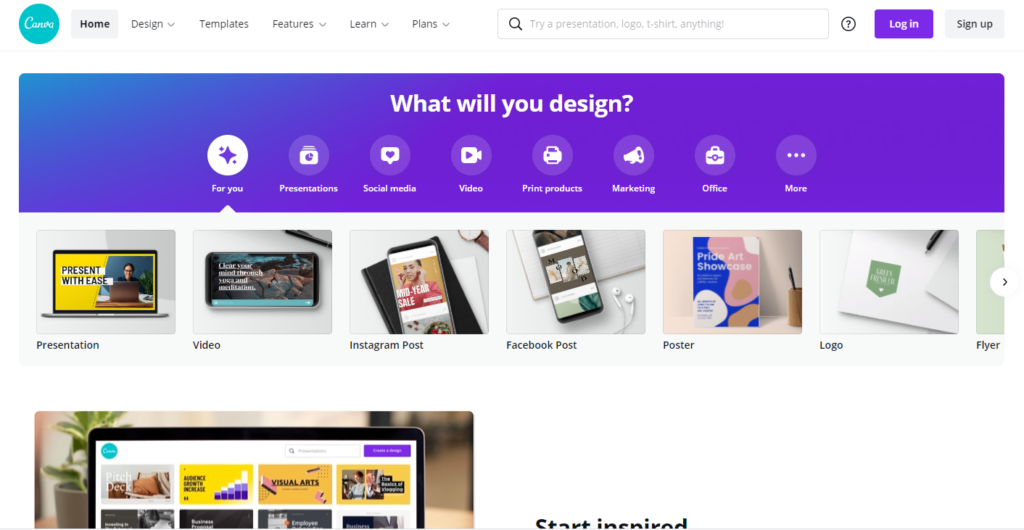 Adobe Photoshop:
I use photoshop on a weekly basis for hero images and general manipulation of imagery and graphics, Adobe Photoshop is a raster graphics editor developed and published by Adobe Inc. for Windows and macOS. It was originally created in 1988 by Thomas and John Knoll. Since then, the software has become the industry standard not only in raster graphics editing, but in digital art as a whole. There are so many online courses and help videos to get you started, and you can use the software for basic jobs like changing text on a banner image, or really delving deeper and creating beautiful imagery and graphics to really set your content aside from the rest!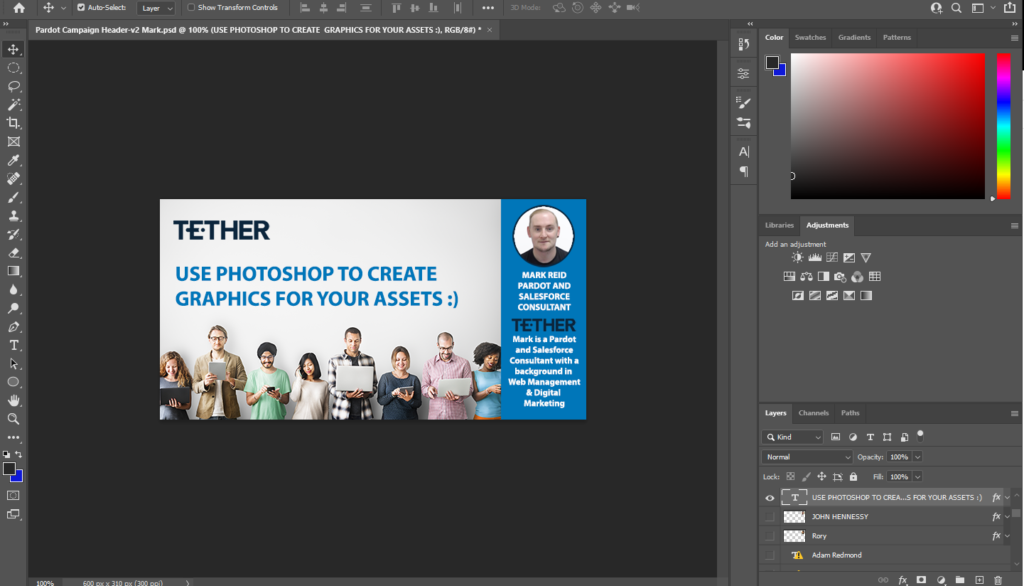 Conclusion:
Using these platforms and assets alongside Pardot sets you apart from the rest when it comes to your content, Pardot can do so much for you, but allow your creativity to shine through and give your assets a boost by using amazing images and graphics. Content creation (and good content creation) is key to interaction and engagement. Visually superior content always draws more attention, and that's what we're here for as Marketers.
Thanks for reading, We hope this has helped.
The Tether Team
#salesforce #salesforcecrm #tethertips #crm