What is the Salesforce AppExchange?
As we all know, Salesforce offers its End Users and Admins a wealth of features out-of-the-box, without the need for complex automations or integrations. However, every so often we may run into a process or workflow that we simply can't do with the standard Salesforce toolbox. You may be wondering… "What are we meant to do in these situations!?". Fear not, we have you covered. Enter the Salesforce AppExchange.

The Salesforce AppExchange is Salesforce's very own in-platform marketplace that offers System Admins a wealth of both free and premium solutions that can be added to Salesforce. The solutions on the AppExchange range from Apps, Components, Flow Solutions, Consultant Resources and more. And the best part… the AppExchange just got even better!

Within this tip, I wanted to give you a quick breakdown of some of the new features within the newly updated AppExchange to help make finding your perfect AppExchange solution even easier!
1. Complete UI Overhaul
Previously, the AppExchange (whilst offering some great Salesforce solutions) was not the easiest place to navigate, and sometimes finding the right component or add-on took some digging. However, with the newest update, Salesforce have overhauled the AppExchange with the goal of providing its users with one clean and unified browsing experience to make it easier to find the correct solution, quicker.
The new home page is the most noticeable change. Instead of seeing a grid of Apps and Components that may or may not be that relevant, now you are greeted with a clean home page that highlights only key solutions. This home page is regularly updated and curated by Salesforce, with sponsored and trending solutions as well as interesting case studies and stories from Salesforce customers. As a result, when you load up the AppExchange going forward, you can be confident that the solutions you see are the cream of the crop!
One of my favourite new features is the "Customer Stories" section which highlights some great use cases of the AppExchange from some of Salesforce's biggest customers.
2. Improved Search Features
With so many great solutions on offer, it could sometimes prove difficult to determine which ones were correct for your industry and use case. Luckily, within Salesforce's updated AppExchange, a whole suite of new search and filter features have been deployed to help you refine the wide selection of solutions down to only the ones that are relevant to you. Below are some of these great updates and some tips on how to get the most out of them.
Business Need
Filtering by Business Need will allow you only show the solutions that will help you within certain areas of your business. For example, if you wanted to find a solution that could help you visualise your sales pipeline, you could toggle on "Sales" within this filter to only show solutions that are tailored for the Sales part of your business.
Pricing
Even though this one is obvious, it does not make it any less useful, in fact, it is one of my favourite filters. It quickly allows you to determine if you will need to pay for a solution or not.
Salesforce Edition
No one Salesforce Org is the same and with multiple different editions of Salesforce, knowing if a solution is going to be compatible within a client's Org is vital information for Consultants and System Admins. Thankfully, the new filters now allow you to only show solutions that will be compatible within your or your clients Org.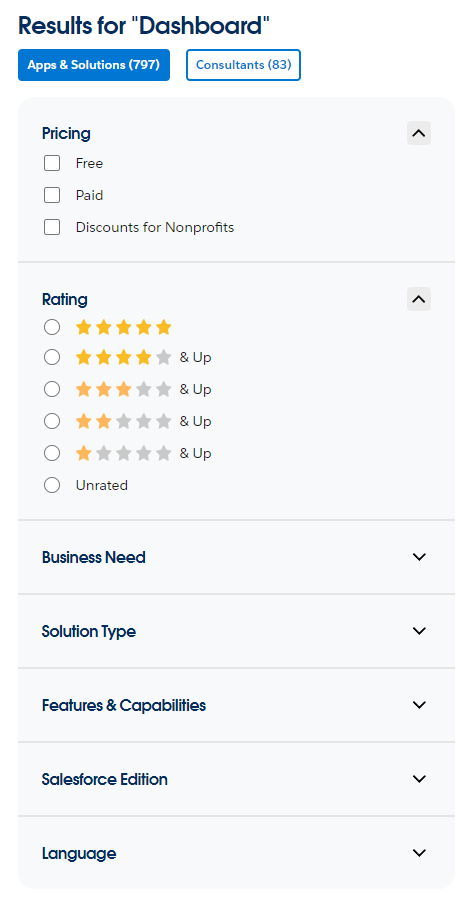 "Salesforce Edition" is my favourite filter as it allows you to only show solutions that will be compatible within your Org.
3. Personalised Experience
Another great enhancement of Salesforce's AppExchange is the improvements made to its personalised and relevant solutions. By logging into the AppExchange with your Trailblazer account, the home page will transform in front of your eyes to show you an experience tailored specifically to you based upon your industry, role and more!
Personalising the AppExchange is as easy as logging in with your Trailblazer account.

As well as the great features already broken down within the Complete UI Overhaul section of this article, Trailblazers will also see personalised sections based upon their previous searches and profile, some examples can be seen below.
Inspired by Your Searches
As I am a frequent visitor of the AppExchange, the platform already knows the type of solutions I am interested in. The new AppExchange will now take this data and show me some solutions based around my search history.

As I have been exploring document generation solutions and dashboards recently, the AppExchange is showing me some of the most highly rated solutions on the AppExchange to suit my needs. The best part about this, however, is the more I use the AppExchange, the better and more personalised this section will become!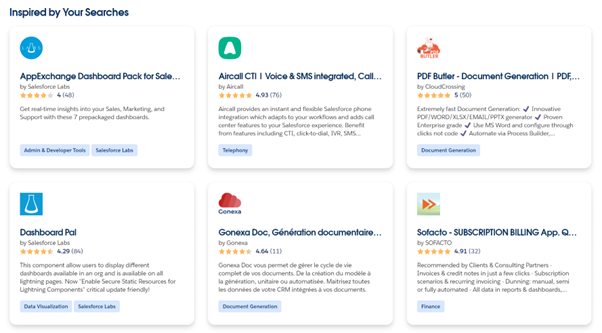 A curated list of solutions relevant to me can be quickly found under the "Inspired by Your Searches" section.
Free Apps for You
I tend to have a few go-to solutions that I will often utilise within Salesforce implementations and as a result of this, I find myself installing the same thing fair few times across different Orgs. Handily, the AppExchange now knows this and will show me the free solutions that I frequently use within its very own section on the home page.
The home page will show me a curated list off free apps based upon my previous use and searches.
Popular for…
One of my favourite new personalisation features is the list of solutions that are specific to my job role. This is great for those of you looking for inspiration from your fellow colleagues and professionals working within the same sector and industry as you.

As I am a Consultant, I can see some solutions that other Trailblazers in a similar role to me have been using straight from the home page and can directly click into these solutions to learn more about them if they catch my eye. Nifty!
Popular for… can keep you up to speed with some of the best solutions within your role and industry.
A Great Improvement I hope this quick tip helps to highlight some of the best new features of the Salesforce AppExchange. If you have always wondered what Salesforce's AppExchange is or have been hesitant to dive into it previously, thanks to this new overhaul, there has never been a better time to get yourself logged in and start exploring!

If you would like to access the AppExchange, head on over to https://appexchange.salesforce.com/.

We hope you enjoyed this tip, stay tuned to our blog for more weekly tips just like this one!

Thanks for reading,
Joehenry Cummings
The Tether Team
#salesforce #salesforcecrm #tethertips #tether #appexchange #org