NEW from the Tether Tips Blog – Keep your data accurate and consistent with dependent picklists
This weeks Tether Tip comes from one of our newest Salesforce consultants, Ciara McCann
The Value of Dependent Picklists:
Dependent picklists offer us more accuracy when it comes to our Data. A dependent picklist is a custom or multi-select picklist for which the valid values depend on the value of another field.
Field dependencies are filters that allow us to change the contents of a picklist based on the value of another field. Rather than displaying every value in a single picklist, you can limit the values that are displayed based on a value for another field.
A great use case:
A perfect example is if an Opportunity is marked as Closed Lost. Why leave it at that? Why not try and explore more of the reasoning behind that loss?
We can create a field called Closed Lost Reason (This is the controlling field). We then have this field populated with multiple picklist values, containing reasons for the Opportunity being lost, ie lost to competitor.
With a dependent picklist to the above Controlling Field, this enables the user to identify which competitor we may have lost business to, which from a reporting point of view is key to every business in order for them to identify potential pitfalls in their approach to opportunities, therefore opening up internal discussions on how to improve and make changes to their processes. "If we lost this opportunity to a competitor, what could we do differently to make sure that doesnt happen again?" Dependent picklists allow us to capture relevant important and targeted follow on data, on fields that otherwise would be closed off and not queried.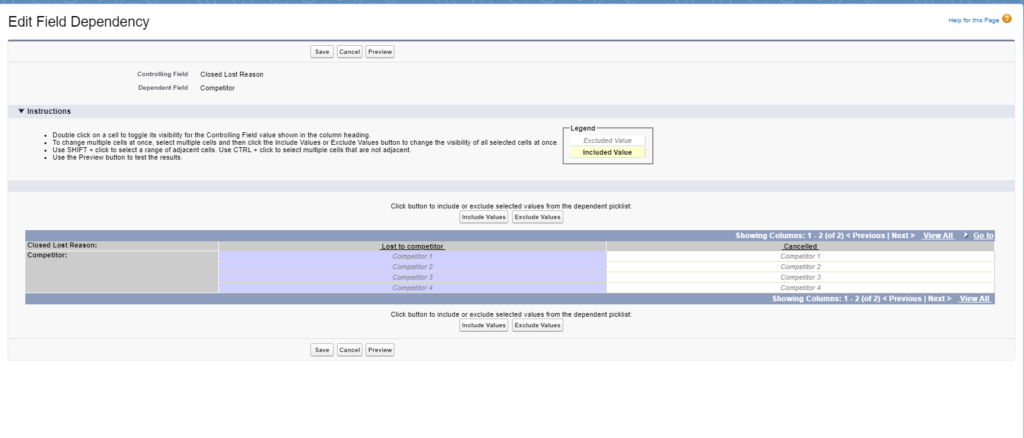 Above we can see three important pieces of information:
Our stage is closed lost
Our reason is lost to competitor
We can denote which competitor it was lost to
Some other use cases:
Products: If you have a custom picklist of specific products, but those products have varied warranty periods, with dependent picklists you can dictate that only the relevant warranty periods to the product are available. Or if we select a product, we will be asked if warranty is applicable, and the dependent picklist will only be available if the checkbox is ticked as yes, if the checkbox is left unselected the warranty section will remain greyed out.
Countries: Another use would be the Country Field, there is no point in having the "State" field populated and in view for everyone, we can ensure that this field only displays when the United States is selected. That way our users can find the appropriate option quickly and easily.
Sometimes adding simplicity and focus to a process is invaluable. Why not easily gather more information and help the business grow.
We hope this helps, and thanks for reading!
#salesforce #salesforcecrm #tethertips #crm