Good Afternoon all,

Here is Some Exciting news for Pardot Users, the new email template builder is coming to town.
Pardots New Email Builder, a Sneak Peek
More info to come on September 5th.
Something Im always very excited for when im training clients on Pardot is the email builder, fast and easy results and simple personalisation through merge fields, and even better, Dynamic Content. Sometimes i do think to myself "Is there going to be an update to the Email Builder in Pardot?"

At last it has been announced, (sort of) with a sneak peek of the New and Improved Lightning Builder, coming October of this year, I for one am extremely excited to get to grips with it. If you want to take a look, its from 19 minutes onward in the video below.
https://www.salesforce.com/video/7830942/
A Quick Overview:
Pardot's product roadmap for 2020 and beyond was announced last week. I'm really excited about their Lightning Email Builder which will provide a more modern way of building emails within Pardot. This will include a really cool drag and drop feature – making it easier for all of us to build responsive emails.

With the features available already within the email builder, we are going to be looking at a really powerful and effective tool, in keeping with the rest of the platforms high performing smart functionality.

Responsive Templates will be a huge upgrade and its so refreshing to know that Pardot is listening to the users and actively working to update the components within to meet our needs. As they say, If you dont ask, you dont get.

Currently we have standardised components within the builder, but moving forward we will be able to bring in custom components available such as video, surveys and more.

We do have another chance to see the builder in action on September 3rd, at the webinar below, if you want to sign up: https://www.salesforce.com/form/events/webinars/form-rss/2549351
A sneak peek at what we can expect from October onwards: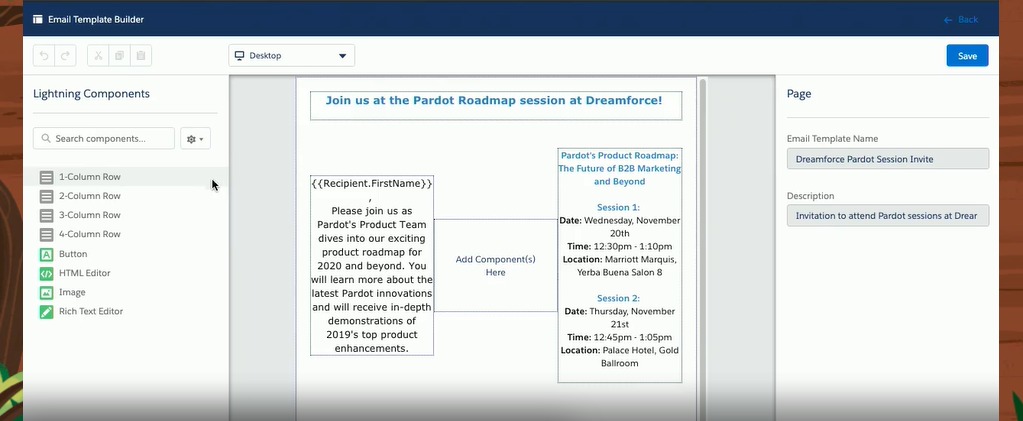 Some of the drag and drop components above are:
Buttons
HTML Editor
Images
Rich Text Editor
This is going to be an amazing upgrade for all of us, not to say that what exists now isnt great, but this will really set our emails apart from the rest.

Looking forward to this rolling out and we are always Happy to talk to you about this and more.
Thanks for reading,
Mark.
#tethertip #pardot