NEW from the Tether Tips Blog – Winter 22 Release, Drag-And-Drop Landing Page Editor
A tip from our Pardot & Salesforce Consultant Mark Reid this week.
Introduction:
I for one love Pardot Landing Pages, they are useful in so many scenarios, for example they prove incredibly useful for event sign ups or content downloads. They really are one of the most malleable assets within Pardot, however one thing that has been flagged to me when training clients on the platform is that the functionality of the builder takes some time to learn and get used to.
There are certain tricks and tips to the builder, some of which I have covered here in a previous blog. Dont get me wrong the current builder is fantastic, and I have seen some stellar results from clients who are using it, but sometimes I had been asked if the builder would ever match the simplicity of the drag and drop email builder. Although i have a knowledge of HTML and CSS, something as simple as changing a background image could be a little bit cumbersome. Well the Pardot Gods have answered our prayers and we have a welcome announcement in the Winter 22 Release.
DISCLAIMER!
Salesforce always cover their back with the following statement, so I feel I should too: This release is in preview. Features described here don't become generally available until the latest general availability date that Salesforce announces for this release. Before then, and where features are noted as beta, pilot, or developer preview, we can't guarantee general availability within any particular time frame or at all. Make your purchase decisions only on the basis of generally available products and features.
That aside, here is the announcement:
Build Landing Pages Faster with Drag-And-Drop Editor
If you're using the Pardot Lightning App, you can now build landing pages inside the Lightning Experience. After you enable the feature, users can create a landing page record in a couple of clicks. Plus, stay on brand by encouraging users to start from saved templates and to select approved images from your Salesforce CMS repository.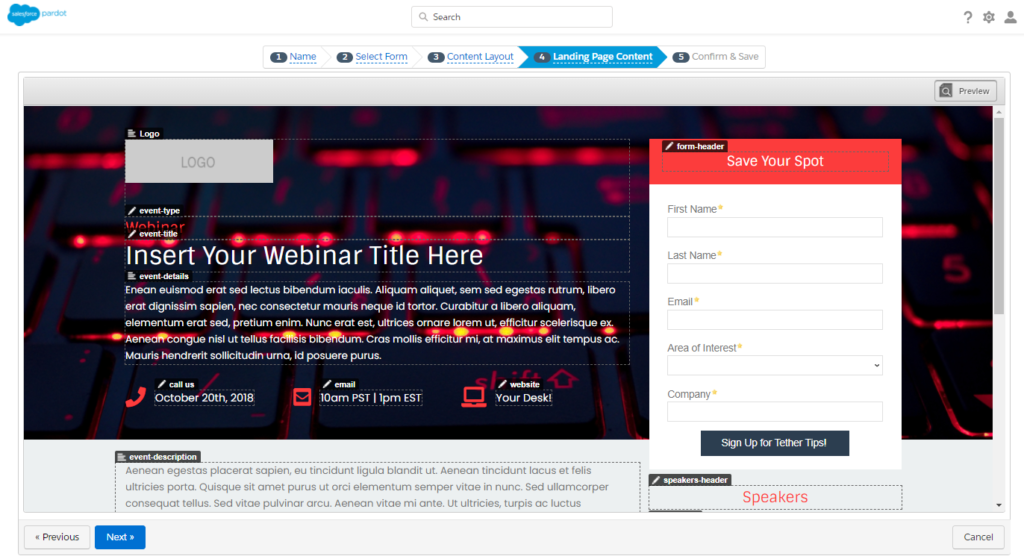 While the standard Builder (Above) works really well, Pardots evolution continues, and as Ive spoken about in previous blogs, their ability to listen to what the community has to say about the platform is what sets it aside from all the others. There had been rumblings about this change for a while, and it looks like its finally here.
This change will apply to all Pardot editions, I for one cant wait to get my hands on the new builder and start creating some new Landing Pages. If you're already using the drag-and-drop email editor in Pardot Lightning App, you can start using the new landing page builder right away. If you're using the Pardot Classic builders, just head over to Marketing Setup and follow the steps under Content Setup.
Pardot and Salesforce CMS:
After setup, users can create landing page records, design landing pages, and publish them right from the Pardot Lightning App. Salesforce Files aren't supported in the builder, so we encourage you to follow the setup steps to integrate with Salesforce CMS.
Conclusion:
I will do a full review of the new builder when I return from annual leave in 2 weeks, and I'm really looking forward to investigating and reporting. Again Pardot makes life a little bit easier for us as Marketers. Now to schedule the Tether Tips for the next two weeks while I'm off…..
Thanks for reading, We hope this has helped.
The Tether Team
#salesforce #salesforcecrm #tethertips #crm