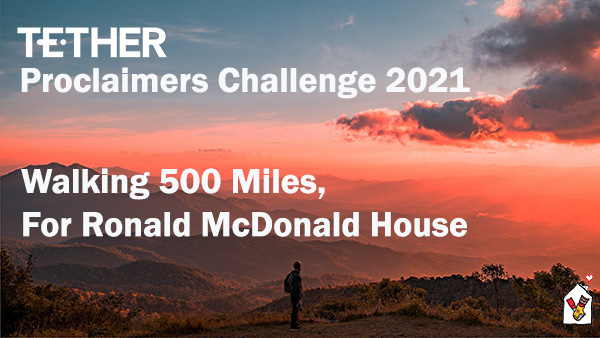 We are walking 500 Miles, and raising money for Ronald McDonald House
Hi Everyone, and thanks for reading, as you may or may not know we have undertaken a challenge to walk 500 miles and raise some much needed funds for an amazing charity, Ronald McDonald House.
What they do:
The Ronald McDonald House helps families to face the weight of illness together. Families are stronger when they are together, which helps in the healing process. By staying at a Ronald McDonald House, parents also can better communicate with their child's medical team and keep up with complicated treatment plans when needed. They can also focus on the health of their child, rather than grocery shopping, cleaning or cooking meals. The House also enables the whole family to be together at this difficult time. Siblings can struggle during this difficult time but staying at the House keeps families close to each other and the sick child.

What we are doing:
As a team, we are walking 500 miles and documenting every cold step we are taking, we did have a great idea to meet up and do our last 10 miles together as a celebration, however due to the lockdown we are unable to do that. So we have been busy getting out and about (within our 5km limit of course) and we have racked up some serious miles already.
We have some team members battling snowy conditions in the UK so we have given them somewhat of a pardon, we dont want anyone catching Hypothermia, even though it would be for a fantastic cause.
What you can do:
We have a Gofundme page set up and we are accepting donations, you can access this page by following the link below. We would like to take this opportunity to thank anyone who has donated already, we are delighted with the reaction so far.
https://www.gofundme.com/f/tether-fundraiser-for-ronald-mcdonald-house
How are we doing so far?
As some of the team are using Apple watches and other devices to track their efforts we have to work out the best way to share the proof of their advances, but at time of writing the team has covered an incredible 380.97 Miles which is a great deal considering the conditions and the fact that were trying to get these miles in on weekends or after a days work, so well done to the team, and we will keep going until we reach the 500 miles 🙂 We are aiming to go hell for leather this weekend and our aim is to complete the Challenge by the end of the 1st week in Feb, (some of us took a longer break over Xmas)
This has been a really nice challenge to undertake, particularly with the current work from home challenges, stepping outside and getting away from the desk is incredibly beneficial, and we are so happy to help out this amazing charity.
We really appreciate your support, and thanks for reading!
The Tether Team
#fundraiser #team #charity